An Unsung Hero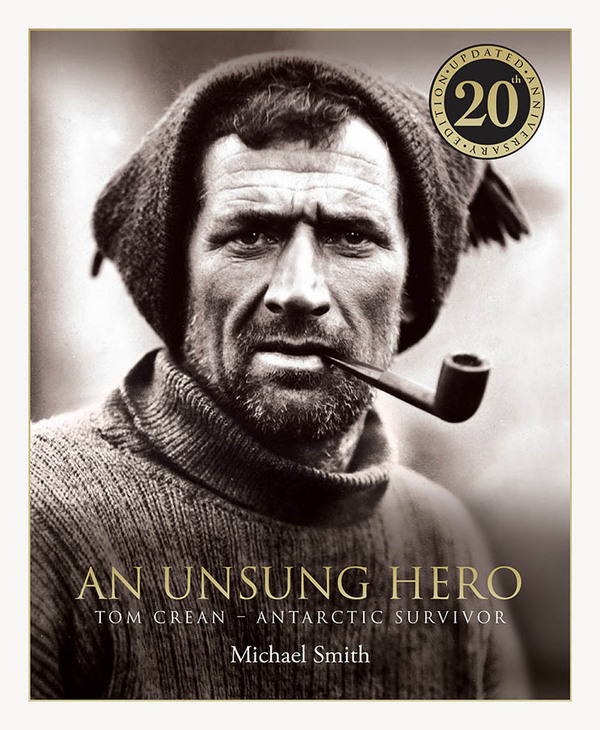 Tom Crean - Antarctic Survivor
Tom Crean was the unsung hero of the heroic age of Polar exploration, an indestructible character who sailed on three of the four great British expeditions with Captain Scott and Sir Ernest Shackleton to the Antarctic. He ran away from home at the age of 15, spent longer in the icy wilderness than either Scott or Shackleton and outlived most of the era's more notable figures.
But Crean never spoke about his exploits and he became a forgotten figure until publication of his first biography, An Unsung Hero in 2000.
An Unsung Hero became a No 1 best-seller in Ireland and has since been published in the UK, US and Italy. The book brought Tom Crean's outstanding life to wider audiences for the first time and brought him the recognition which eluded him in life.
Crean volunteered for Scott's Discovery expedition between 1901-04 and was among the first recruits when Scott returned to the Antarctic in 1911 for his tragic last expedition. Crean was among the last see Scott alive 150 miles from the South Pole and
Following publication of An Unsung Hero, a statue was erected to Crean outside his home at Anascaul, County Kerry Sir Edmund Hillary travelled from New Zealand to open a major public exhibition about his life and Guinness themed a television advertisement about the Irishman. Songs have been written, award-winning stage plays performed and a TV documentary has been broadcast. For first time, Irish children are being taught the story of Tom Crean in schools.
---
Headline
www.hodderheadline.co.uk
US Edition
Tom Crean – Unsung Hero of the Scott and Shackleton Antarctic Expeditions
Published by The Mountaineers Books, Seattle, USA
http://www.mountaineersbooks.org

Italian Edition
L'Eroe Della Frontiera di Ghiaccio
Published by
Effemme Edizioni, Milan, Italy
www.effemme-edizione.it
---
Reviews
A long unrecognised giant of the heroic age of Polar exploration, Tom Crean finally gets the recognition he so richly deserves. This is a Hollywood adventure movie waiting to be made. What a story!
Bob Kremenak, Membership Chair, American Polar Society
Well-written and beautifully told.
The Times, London
It's a wonderful Kiplinesque yarn, enthusiastically spun by Michael Smith, about a great Irishman who didn't have to die to become a hero.
Irish Independent
This book is a remarkable tribute to one of Ireland's great Polar explorers. Michael Smith's excellent biography finally puts Tom Crean where he has long deserved to be – in the limelight amongst the other great figures of the Heroic Age of Antarctica exploration.
Jonathan Shackleton (cousin of Sir Ernest Shackleton)
A ripping yarn…The epic struggles, heroics and the unbelievable hardships of the voyages are wonderfully told. Compulsive reading…
Irish Times
This is a moving account of a genuine hero – modest, honest and powerful…timely in an age when we put down our heroes.
Frank Delaney
Michael Smith's gripping biography…
Sara Wheeler, Evening Standard, London
If Tom Crean's fame was little known before, Michael Smith's An Unsung Hero resets the balance in expansive fashion.
Sunday Independent
Michael Smith has made a great and welcomed addition to the history of Antarctic exploration. A man like Tom Crean who survives three Antarctic expeditions and returns to an Irish village to open a pub called 'The South Pole Inn' is a man worth knowing about and Smith tells the story well.
Robert B. Stephenson, Coordinator, The Antarctic Circle website
Writing with commendable clarity, Michael Smith's well-paced narrative offers and evocative portrayal…
Birmingham Post
Michael Smith has succeeded in etching the Kerryman's place indelibly on the pages of Antarctic history.
Irish Examiner
This book can be highly recommended to all with an interest in our great heritage of exploration, the sea and outstanding heroism.
The Orders and Medals Research Society
Crean has been at the centre of much of the polar resurrection, particularly since the publication of An Unsung Hero by Michael Smith.
Sunday Business Post
Polar exploration buffs will enjoy a book that does in all fairness tell an exciting story well.
The Scotsman
Michael Smith has written a splendid biography of Crean.
The Nautical Magazine
I have read all the books, repeated most of Shackleton's boat routes as well as that of the Worst Journey, plus written a book of my own on polar exploration – but this old, bold tale, told well, is one I couldn't put down.
Galen Rowell, author of Poles Apart: Parallel; Visions of the Arctic and Antarctic