Captain Francis Crozier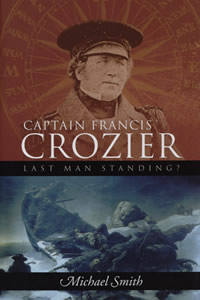 Last Man Standing?
Francis Rawdon Moira Crozier was a major figure in the exploration of the Arctic and Antarctic regions during the middle of the 19th century and was a central figure in the three great endeavours of the age – navigating the North West Passage, reaching the North Pole and mapping the unknown Antarctic.
He sailed on six voyages of discovery between the 1820s and 1840s and his exploits paved the way for men like Amundsen, Scott and Shackleton in the early 20th century. But he never received the recognition his feats deserved and Crozier became a footnote in history.
Francis Crozier, who came from Banbridge, County Down in Ireland, left a privileged home life at the age of 13 to join the British navy during the bloody wars with Napoleon. On one of his earliest voyages Crozier unexpectedly met the last surviving mutineer from the Bounty exiled on the remote Pitcairn Island.
Crozier sailed with legendary explorers of the era, including Sir Edward Parry, Sir James Clark Ross and Sir John Franklin. He sailed with Parry in an abortive search for the North West Passage in 1821 and 1824 and in 1827 he joined Parry in a failed attempt to reach the North Pole. He was a Fellow of the Royal Astronomical Society and the Royal Society, the prestigious scientific institution.
But Crozier was a modest man, unassuming man who never sought the limelight and alone among his famous seafaring contemporaries was not honoured with a knighthood.
Crozier's most outstanding journey was the 1839-43 voyage with his friend, James Clark Ross, to the Antarctic in HM Erebus and HM Terror. The four-year journey was the 19th century's greatest feat of maritime exploration under sail and gave Antarctica the geographic names which became synonymous with the heroic age of Amundsen, Scott and Shackleton. They include McMurdo Sound, Mount Erebus, the Ross Ice Shelf and Cape Crozier, the wind-blasted headland on Ross Island immortalised by Apsley Cherry-Garrard in his epic, The Worst Journey in the World.
In 1845 Crozier was appointed captain of Terror and second-in-command of the ill-fated Franklin expedition to find the North West Passage, which became the biggest disaster in the history of Polar exploration. After Franklin's death, Crozier took command and led over 100 survivors on a desperate but futile march across the icy Arctic wilderness to reach safety. Men dropped dead in their tracks and some resorted to cannibalism. All 129 explorers perished but according to legend, Crozier was among the last to die – the last man standing ?
Captain Francis Crozier – Last Man Standing?, published by The Collins Press, Cork (2006).
Links: http://www.amazon.co.uk/Captain-Francis-Crozier-Last-Standing