Shackleton - The Boss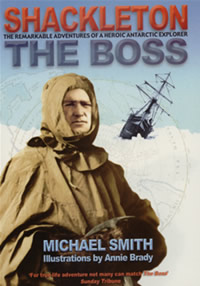 The Remarkable Adventures of a Heroic Antarctic Explorer
This is the only biography of Sir Ernest Shackleton, the legendary Antarctic explorer, written especially for children. It is an inspiring and extraordinary story of the man whose men called him, The Boss.
As a child Shackleton dreamt of being an explorer and at the age of 16 he joined the navy in search of adventure. It is a remarkable story of courage, endurance and a battle to survive which has captivated generations.
Shackleton, The Boss, sailed on four great voyages to the Antarctic between 1901 and 1922. His incredible adventures included a breathtaking march to within a few miles of the South Pole and the epic saga of hardship and survival against the odds on the famous Endurance expedition.
---
Published by The Collins Press
---
Reviews
Inspiring story of courage and perseverance
Sunday Independent
Gripping, very tense and exciting
Irish Examiner
For true-life adventure not many can match The Boss. This factual account of his endurance and courage is moving recreated.
Sunday Tribune
If you see this book you should get it
Evening Echo