Sir James Wordie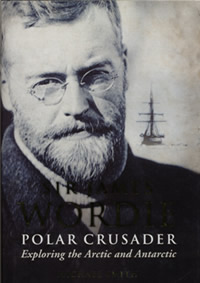 Polar Crusader
Sir James Mann Wordie, born in Glasgow in 1889, was the elder statesman of polar exploration ­and the link between the heroic Edwardian Age of Shackleton and Scott and the mechanised modern era which opened up Antarctica and the Arctic.
Wordie's career began with Shackleton's epic Endurance expedition of 1914-­16, and was among those trapped on Elephant Island. He later served on a further eight Arctic expeditions and pioneered a new style of exploration as he mentored the next generations of young explorers such as Watkins, Fuchs and Courtauld.
During the Second World War he was instrumental in safeguarding British interests in the Antarctic and later rose to be President of the Royal Geographical Society where he was pivotal to the first successful ascent of Everest in 1953. He helped mastermind Fuchs's first crossing of the Antarctic in the mid-50s and was knighted in 1959. He was also Master of St John's College, Cambridge.

This is the first full biography of Wordie and is based on previously unpublished papers and diaries, most notably Wordie personal log kept on the Endurance expedition.

Michael Smith's book captures all the drama of an extraordinary life lived at the edge and will go a long way in establishing James Wordie in his rightful place in the pantheon of great British explorers.
---
Published by Birlinn
www.birlinn.co.uk
---
Reviews
To read of Wordie's life is to reach deep into the heart of British exploration – and to feel it pulsating as it metamorphosed from the Heroic to the Modern Age. He's the real deal and absolutely worthy of such an engaging biography.
Pen Hadow, Geographical Magazine
Despite his exalted position in Polar circles, Sir James Wordie remains shamefully unknown….Michael Smith has set out to redress the balance…
Tom Kyle, Daily Mail
The private paper's of Shackleton's chief scientist on Endurance have been entrusted to Smith, a serial biographer of Antarctica's supporting players…
Jasper Rees, Daily Telegraph
Michael Smith has produced a well-documented and highly readable account of Sir James Wordie's life. Truly a remarkable life and a story well told.
Charles Swithinbank, Polar Record
'The pages fly by as the reader is drawn effortlessly through the many and varied phases of Wordie's astonishing career...no polar library would be complete without it.
International Journal of Maritime History