Tom Crean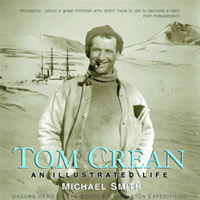 An Illustrated Life
Tom Crean was one of the greatest men to emerge from the heroic age of Antarctic exploration. He ran away form home at the age of 15 and became a major figure on three expeditions to the ice with Captain Robert Scott and Sir Ernest Shackleton.
But his extraordinary story was largely forgotten until publication of An Unsung Hero, the first biography of Tom Crean, which rose to become a best-seller and introduce exploits to new audiences around the world.
This pictorial anthology celebrates the adventures of Tom Crean through a series of outstanding photographs which chart his life from its earliest days in Ireland on a farm in Kerry, through decades of great heroism in the Antarctic and the return to his Irish roots. This fine collection, which has been assembled for the first time, includes many rare and largely unknown photographs taken under extreme circumstances.
The photographs are complemented with a fresh version of Crean's incredible life story and each image is supported by an informative caption, which adds a new and illuminating dimension to the unique saga of an exceptional man – Tom Crean.
---
Published by
The Collins Press
---
Reviews
"…a pictorial record of the remarkable man."
Sunday Tribune