Tom Crean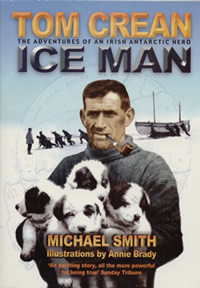 Iceman
This is the awe-inspiring story of Tom Crean written especially for children. It is a saga of adventure, courage and survival in the Antarctic, the world's most hostile environment.
Tom Crean ran away from home at the age of 15 to join the navy and volunteered to join Captain Scott's first voyage to the Antarctic on Discovery.
He was among the last see Captain Scott alive near the South Pole in 1912 and saved the lives of two companions in the greatest single-handed feat of bravery in the history of exploration. Crean joined Shackleton's epic Endurance expedition in 1914, helping to sail a small open boat across raging seas and making the first forced march over the mountains and glaciers of South Georgia.
---
Published by The Collins Press
---
Reviews
Will interest adults and children alike
Irish Echo
Succeeds admirably, an ideal book for children
Inis
Imaginatively atmospheric
Books Ireland